The British magazine for everyone interested in handspinning
YarnMaker was launched in August 2010 and the final edition was published 6 years later in December 2016. The magazine was published by Dorothy Lumb as a self-employed independent publisher working with freelance writers.
YarnMaker included articles on fibres, sheep breeds, spinning techinique, dyeing yarn and fibre, using handspun yarns, competitions, information about spinning wheels, new products, events, meetings of local spinning guilds and groups, businesses supplying materials and services.
This website is still maintained as a resource for anyone interested in the magazine, see contact page or details below if you wish to contact Dorothy.
---
Cover of the final edition, Autumn 2016.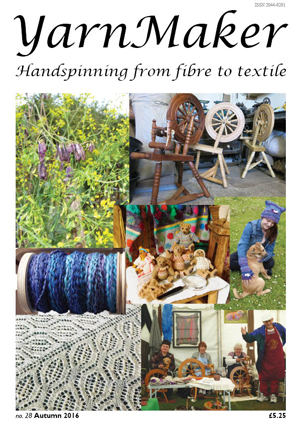 YarnMaker editions have featured: British sheep breeds plus a few from Europe and Scandinavia, working with British fleece and other fibres including washing, preparation and spinning for making traditional and art yarns, yarn design, garment design, knitting patterns, simple loom weaving including tapestry, tri-loom and rigid heddle, natural and synthetic dyeing techniques for fibre and yarns, projects from fleece to garment, history, events, local group listing, spinning wheel reviews and features, book and film reviews, and far more besides. Click the Contents button to find out more. Back issues are still available from stockists of the magazine.




EXTRAS

click About Fleece for information leaflets to download and print

Find other websites of interest to handspinners in the UK